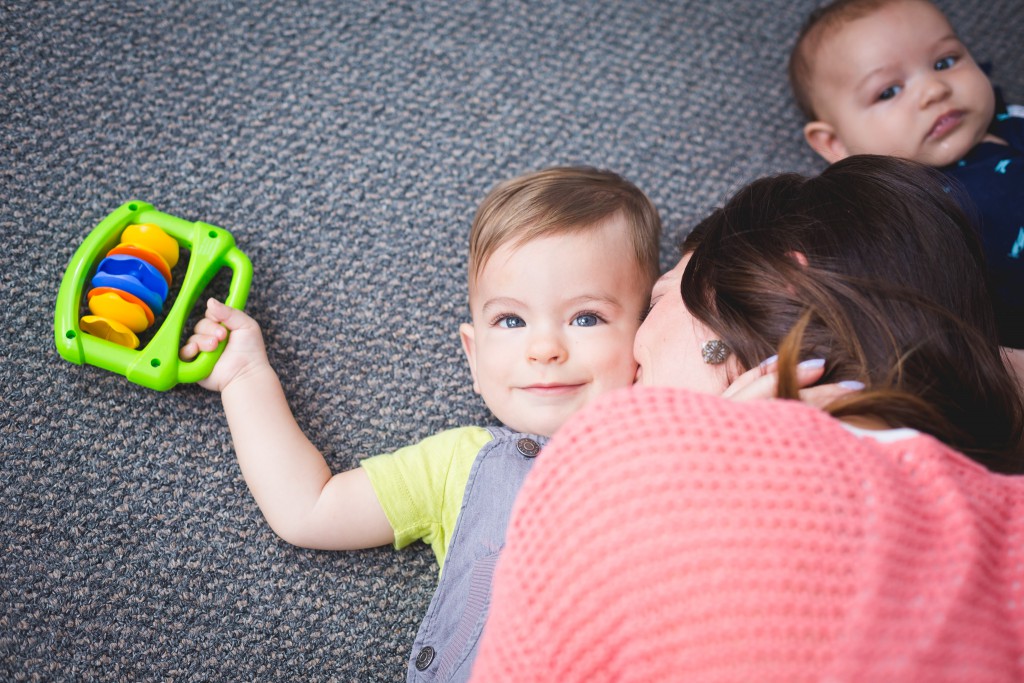 What is Kindermusik?
Kindermusik was first born in 1978 by its founder Dan Pratt, whose dream was inspired by a successful German music curriculum he discovered while studying in Cologne. Since then, Kindermusik has grown to reach more than 2 million families in over 70 countries across the world. Our studio, Kindermusik with 88 Keys Piano, has been bringing this time-tested program to families around Savannah, GA since 2002.
---
How early should I start?
Our classes are for newborns to seven-year-olds, so we encourage you to start as early as possible!
---
Are parents a part of the class?
Yes! The best part of Kindermusik is that it bonds families together, setting us apart from all the other activities "out there." You don't just get to hear about your child's class; you get to be there participating, as well. Hooray!
---
How many caregivers may bring a child to class?
As many as you wish! We always welcome multiple caregivers, so if Dad, Mom, Grandpa, Grandma, and the nanny all want to come together, the more the merrier!
---
Where are the classes held?
Our classes meet at the 88 Keys Piano music studio: 183 Deerfield Road West, Bloomingdale, GA 31302, USA.
---
Who is my teacher?
Marina Lindblom is your licensed Kindermusik educator. She's been teaching since 2002!
---
What behavior is expected during class?
Parents, relax! This is about process, not performance. We encourage exploration without expectation, so children can have fun and participate where they are. We celebrate every accomplishment, no matter how big or small! We encourage parents to step in and help their children get the most out of class, while at the same time letting them learn the way they learn best.
Don't be stressed out about singing or how you should act. We know you didn't come here to impress your friends. You came to spend time with your child. And whether you have an opera voice or a shower voice, it's your voice your child loves best and wants to hear. Model excitement by staying engaged yourself. Have a wonderful time—this is your class, too! ?
---
What should I wear to class?
Just dress comfortably for movement. We have a no-shoe policy in the classroom, so socks or bare feet are fine!
---
Is there anything I need to bring to class?
Not at all. We'll provide plenty of exciting things to put in your little one's hands and keep them engaged throughout the entire class. Everything you need to enjoy the class is right here at the studio!
---
What's included in my monthly enrollment?
Four weeks of classes each month
Permanent, unlimited access to Kindermusik Online with all the class music, lyrics, activities, videos, and fascinating parenting tips, based on each month's class theme
A free bonus class whenever there's a fifth week in the month (we always celebrate with a surprise class theme and donut holes!)
Unlimited makeup classes as long as you're enrolled
Inclusion in the weekly email "Kindermusik Highlights," featuring the benefits of an activity from our last class
---
How does the hassle-free auto-billing work?
Your enrollment renews itself on the first day of each month. Your card will be stored in our secure system the first time you pay, and from then on you'll be charged automatically on the first of each month. If you have any kind of coupon or discount to apply, let us know before the next month, when your next payment will occur. All payments are nonrefundable after they are billed. You can stop this automatic process and restart it anytime at your convenience; just let us know before the first of the next month. Any Kindermusik Online units you've received are yours to keep forever! For your convenience, we do not charge any annual registration or re-enrollment fees for taking a break and rejoining our classes.
---
What if I'm sick or traveling and happen to miss a class?
If you miss a class, feel free to come on another day. For example, if you're enrolled in Monday, just come Tuesday! You can also make up your missed class on the next fifth week of the month. Makeup classes are offered whenever there's a fifth week in a month, since you only pay for four classes in a month. As long as you're enrolled, makeups are unlimited.
A note about missing class: Because our classes are set up for optimal learning, which means a small group environment, it greatly helps us if you can quickly shoot us an email or send a text beforehand if you're not going to make it to class that day, or if you're thinking about attending a makeup class. We understand last minute emergencies come up, and you can't always take the time to notify us; but whenever you can, it's a great help to us!
---
Will there be class on rainy days?
If it's just rain, yes! What's better on a rainy day than a delightful indoor activity like Kindermusik? If the weather is unusually hazardous and we do need to cancel, we'll be sure to let you know by text, phone, or email first. And don't worry; if we need to cancel class for any reason, we'll have a special makeup class soon afterward.
---
Will there be class on holidays?
Yes, we typically continue holding Kindermusik on government holidays such as Labor Day and Memorial Day. We'll always let you know if there's an exception. (See our sibling drop-in policy right below if you want to bring your older child during their school holiday!)
---
Can non-enrolled siblings come along to class?
For siblings 6 months and older: Yes, as a one-time drop-in, this is acceptable for a fee of $12. We ask that if it needs to happen regularly, you would enroll your second child, as you get a better value this way.
For siblings 5 months and younger: Infants under 6 months old may come along for free!
---
Can my older child come along and sit out in the waiting room during class?
We regret that non-enrolled children under 13 are not allowed to sit out in the waiting room alone.
---
Where can I nurse, feed, and change my baby?
Nursing and infant bottles are allowed inside the classroom or out in the waiting room. A diaper changing table is available, as well as a bathroom.
---
Are snacks and toys allowed in class?
With the exception of nursing accessories and bottles, please save your snacks, drinks, sippy cups, and toys for afterwards!
---
What happens if I bring a friend to class?
If your friend enrolls, you get $10 off your next month of classes or an instrument for your child!
---
What happens if I can't make a playdate or other one-time event I'm enrolled in?
We'll hold your take-home goodies (instrument, songs, and coupon at a playdate) for up to one month until you can pick them up. However, the cost is nonrefundable.
---
How do I schedule a custom playdate?
Just pick a day that works for you and let us know at least a month in advance. We'll create a special enrollment form that you can send out to only your friends! We will need at least eight to ten families to run a custom playdate, but no more than fifteen.
---
Is Kindermusik appropriate and beneficial for special needs children?
Every child is welcome in our studio. Therapists often recommend our programs to families whose children experience physical, emotional, cognitive, or social challenges. Children with special needs are welcomed into all Kindermusik classes. Contact us to learn more.
---
Did someone mention a piano discount?
As long as you're enrolled in weekly Kindermusik classes, you're entitled to 10% off the purchase of any piano from 88 Keys Piano. The piano showroom is directly adjacent to our Kindermusik studio: take the first door to the right after leaving the studio!
---
Ask a Question
Have a new question that you don't see answered here? Don't be shy. Shoot us a message and we'll get back to you soon with the answer!