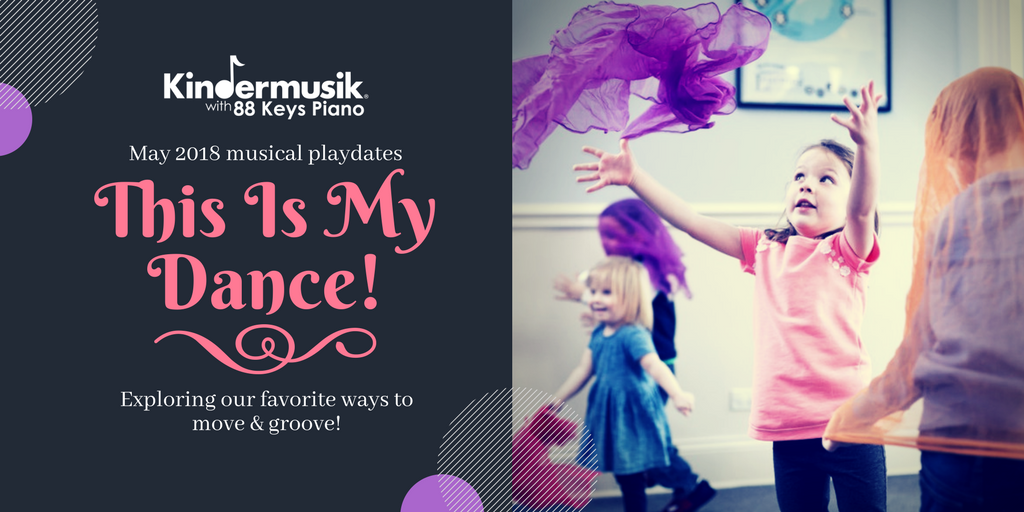 May Musical Playdates
Theme: "This Is My Dance!"
Welcome to our May playdates: This Is My Dance! It's time to move and groove, twirl and swirl, reel and kick up a heel to the music of our favorite dances. We'll be dancing the tango, cha cha, waltz, and classic Virginia reel, among many others. Get ready to step to the beat and celebrate with us the joy and energy of moving to music in our own special ways. Spotlight's on: it's everyone's chance to shine! What's your little one's dance?
Your child will get a Kindermusik instrument of their own to take home, as well as 10 Kindermusik songs and a $10 coupon for our weekly studio classes.
This playdate will be held three times, so feel free to enroll in one or more dates. Playdates are open to children ages 0-7 and their caregivers. Cost is $15 for your first child, and just $5 each for siblings.
Spaces in each playdate are limited and tend to fill fast. Enroll now and save your family's spots!
Dates & Times
Saturday, May 19, 2018 at 10 am

- FULL!
Wednesday, May 23, 2018 at 10 am
Saturday, May 26, 2018 at 10 am
Enroll Your Family
Note: You'll need to create an account the first time you enroll, and then login with that same account for future visits.
---
 About the Monthly Playdates
So, what's the difference between the weekly classes and the playdates? Just that the playdates aren't a recurring enrollment. They're a one-time event, often held on weekends to accommodate families who can't make the weekly classes.
Playdates are offered two to three times a month, centered around a different theme every month. Playdates are for children ages 0-7 and as many caregivers as wish to come along! At a playdate, each child takes home an instrument/prop related to the theme, 10 Kindermusik songs, and a $10 coupon for our weekly classes. Cost is $15 for your first child and just $5 each for siblings.
Attending a playdate is a great first step if you're new to Kindermusik. We predict you'll fall in love with the energy, movement, laughter, and learning packed into those 40 minutes!