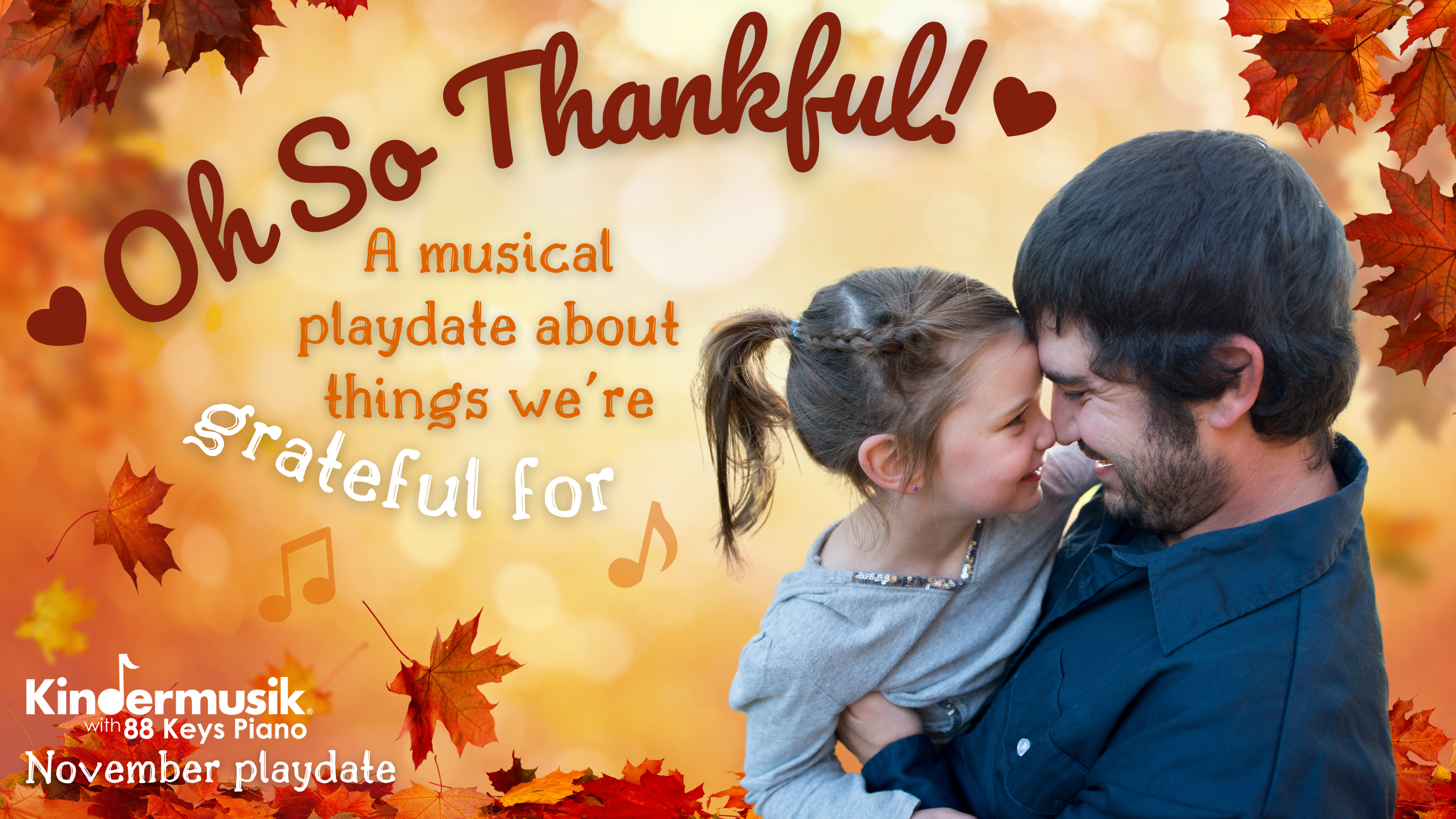 Saturday, November 20, 2021 @ 10am
-FULL-
Welcome to our November musical playdate: Oh So Thankful! We're celebrating BEING THANKFUL in this heartwarming playdate, and all the special things and people that mean the most to us! You'll get to connect with your child in an endearing way, while having a blast sharing playful rhythms, songs, dances, and instruments together. Come be Oh So Thankful with us!
Parents and children together will engage with instruments, singing, moving, dancing, story time, and more delightful activities in this exciting one-time Kindermusik class. Limited spaces! Claim your child's spot before it fills!
Every enrolled child will get...
A 40-minute class packed with learning, love, and laughter

A Kindermusik instrument/prop

A magic card for you to download 10 Kindermusik songs of your choice

A $5 coupon for our weekly studio classes
---
DETAILS:
Ages 0-7! Our class is geared toward newborns all the way up to 7-year-olds! Unlimited caregivers, so bring the whole family along!

Limited capacity!

Our November musical playdate will be held Saturday, November 20th at 10am. 

Don't delay in enrolling, as spots are limited and will be closed as soon as the spaces fill.
Cost: $20 (Siblings only $12!)
Ages: Newborn to 7 years
Location: Kindermusik with 88 Keys, 183 Deerfield Rd W, Bloomingdale GA 31302
Date/Time
Saturday, November 20th at 10am EST

- SORRY, THIS PLAYDATE IS NOW FULL.