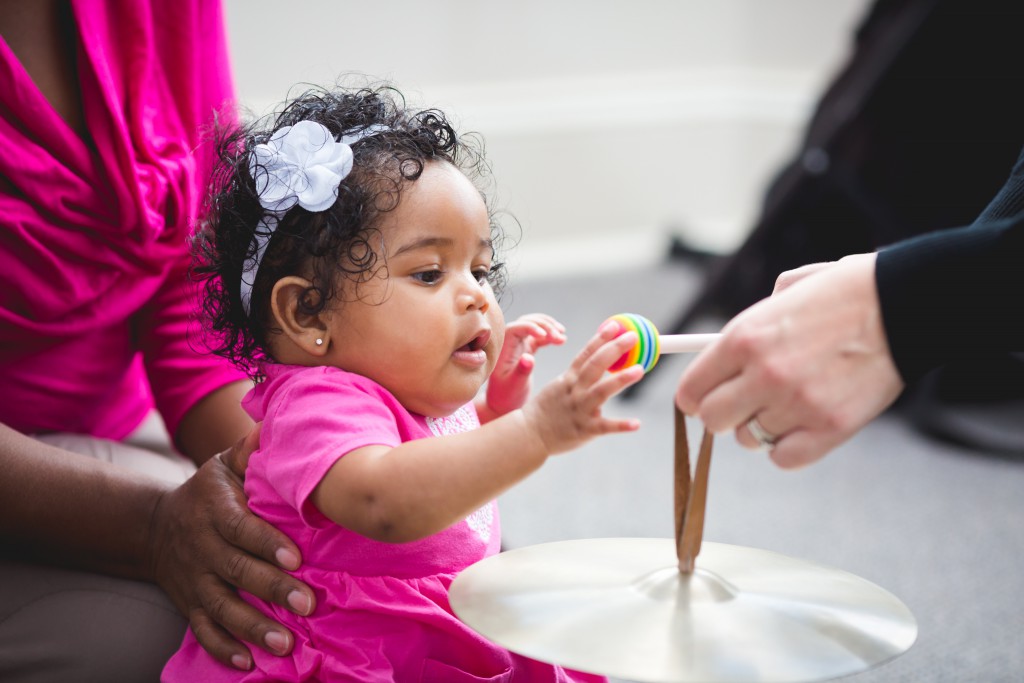 Our daughter, Montie, has been going since she was 8 months old. She's one of the younger kids in the class but she enjoys it and gets alot out of it. We plan to continue with the classes for years to come.
Testimonial by: Summer H., mom to Montie, age 8 months
---
We love Kindermusik with 88 Keys. My son has been going since he was a few months old and he is almost 2 now. He loves the classes and his teacher! The class has been great for him developmentally and socially. I highly recommend!
Testimonial by: Ashley M., mom to Henry, age 17 months
---
My daughter absolutely loves her Kindermusik class. We have been going for about 3 months and she is learning so much, while at the same time having a blast! She adores the teacher! On that note, our teacher (Marina) truly has a gift for teaching and inspiring little ones to learn! We use a ton of different instuments and ALL of the babies & toddlers in the class seem to really enjoy it. We both really enjoy the songs and play them all the time at home. I love that the lessons are structured, but not rigid at all. Now every Tuesday morning when she notices we are headed in our Kindermusik class direction, she starts chanting "music" and clapping. This makes me as parent so happy that she enjoys learning & music! We REALLY love our Kindermusik class!
Testimonial by: Torie L., mom to Harper, age 2
---
This is a happy place. She keeps it moving, but no pressure is felt, and the children are not over-stimulated either. I don't know of anything I'd recommend any higher than this experience.
Testimonial by: Debbie H., nanny to Gabe, age 2
---
This is exactly the type of experience I was looking for for my three year old. As soon as the car pulls into the driveway he gets excited. A very warm, fast paced morning filled with music, dance and learning!
Testimonial by: Mickie M., mom to Hunter, age 3
---
Kindermusik has impacted the lives of our three daughters immensely. The exposure to different kinds of music, all sorts of instruments, and music theory has allowed them to flourish in the arts, academics, and even athletics. There's a rhythm to everything we do, and we're so grateful for the experiences our family has had through Kindermusik.
Testimonial by: Vikke B., mom to Kearsetyn, Kennedy, and Kerringtyn
---
My grandson loves Kindermusik! He is 17 months old and has been attending classes since he was 3 months old. The classes are fast paced and fun! The classes are also developmentally appropriate with hands on music activities with quite a variety of instruments. The instructor is fantastic!
Testimonial by: Louise M., grandma to Henry, age 17 months
---
My daughter gets excited when we pull in the driveway! Very interactive and great children! She is alone most of the day, so I am happy that she gets to interact with other kids. Her nana visited with us, and she was very impressed with the way the kids listen and interact! I feel so blessed to have Marina as a teacher; you can tell that she really cares for the kids and she is really into the music class! My daughter really loves it; her dad and I look forward to class too! ?
Testimonial by: Laneshia P, mom to Annie, age 3
---
Marcelo loves Kindermusik's playdate every month. He happily sings Kindermusik songs every day at home, especially 'Rise, Sugar, Rise.' I enjoy enormously having this musical learning experience for my son's development.
Testimonial by: Marcela M., mom to Marcelo, age 3
---
We have been attending the family class for about five months now. Both children love going to class each week. The routine (hello song, clean up song, etc) helps them know what to expect, but the songs and instruments always change, which keeps them fully engaged. We love listening to the songs at home, too!
Testimonial by: Jill C., mom to Lottie, age 3, and Mattson, age 16 months
---
My youngest brother has so much fun each week at Kindermusik! I brought him to his first class when he was 4 months old, and he is now 3. It's been really neat to see him transform from quietly absorbing the class as an infant, to wholeheartedly loving it and participating as a lively toddler! He talks about all his little friends, the music, the activities, and how much fun he's having all week long. I hear him singing the songs and chanting the poems all the time. When I tell him it's class day, his whole face lights up! Best, he's learned so much about music and has gained so many skills. I look forward to the special time we have together at every class, and I'm so grateful we've been able to share this great experience since his babyhood.
Testimonial by: Libby L., big sister to Leo, age 3
---
The music class are awesome for the little kids! My 18-month son loves it!
Testimonial by: Monica L., mom to Lucas, age 18 months
---
I have been coming to Kindermusik with 88 Keys with my daughter for a while and it's amazing to see how she's progressed in so many areas over the months! She is much more comfortable around people, has learned to share, sit for story time (amazing!!) and she dances every time the music comes on. I've even noticed that when I sing something she will copy me and sing it back to me, even in the right key. I'm really really impressed with all they teach in this program. The teacher is wonderful and the whole experience is really outstanding. Thank you! I will recommend Kindermusik with 88 Keys to all my friends.
Testimonial by: A happy mom
---
Thank you for growing my son in his confidence and social skills. You all are gifted and completely wonderful at what you do! It's been a wonderful experience for us. I've enjoyed watching him learn new skills in such a creative and playful environment as well!
Testimonial by: Tiffany J., mom to Paxton, age 2
---
James loves attending Kindermusik class. ​Every time we start to walk towards the door he starts squealing and clapping. He loves interacting with the other children, clapping and playing instruments along with the music, and just being a part of such a lively and interactive group. He has been attending for about a year now and it is truly the highlight of his week!
Testimonial by: Melissa G., mom to James, age 1
---
If you have never been to a Kindermusik class, GO! My daughter and I go once a month and we look forward to going every time. The instructor is very good at what she does and it has been so great getting to know her, her family and other regulars. Some of my daughter's favorite toys are the little musical instruments we take home from Kindermusik class. I'm so happy to have this as an option in my community!
Testimonial by: Amelia I., mom to Armita, age 1
---
Leave a Testimonial 🙂
Have a Kindermusik story of your own? Share it with us! We and others would love to hear how taking classes at our studio has brought your family more joy!